Support for study and research abroad, and for English improvement
While presenting results at smaller meetings within Japan is an important activity that we encourage, we also strive to produce researchers who can fully participate in international meetings at the forefront of their fields, discussing science in depth with all the leading scientific minds. This goal can be achieved through frequent and intensive practice presenting, discussing, and debating science in English. The Graduate School of Biostudies recognizes the key importance of training in communication and presentation skills, and provides financial and other support for the following activities:
| | |
| --- | --- |
| Presentation at an international meeting | travel and accommodation fees will be offered up to a maximum of ¥300,000. |
| Extended visit or short-term internship placement in an overseas lab | travel and accommodation will be provided up to a maximum of ¥500,000. |
| English standardized tests | up to one TOEFL ITP test per year will be paid for by the graduate school. |
| Guidance on English presentations | English-speaking faculty are available for presentation practice; please contact the student affairs office for more information. |
Please see below for reports written by previous participants in these support programs:
Amgen Scholars Program
The Amgen Foundation (USA) has established a fully-funded short internship for motivated students from around the world to study at one of 24 world-leading institutes, including Kyoto University. The Graduate School of Biostudies has accepted Amgen scholars every year since the program's introduction into Japan in 2015; typically, around ten Amgen scholars enter through Biostudies. The program includes hands-on lab experience, presentation of research results at a final Symposium, and scientific exchange with the other scholars throughout Asia. More information is available at the following links: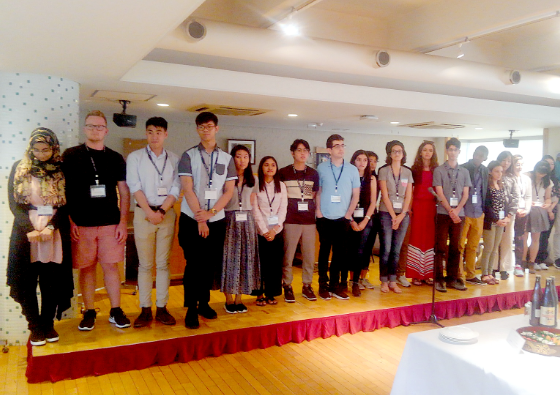 Photo of 2019 Amgen Scholars at Kyoto University
Connections and exchanges between the Graduate School of Biostudies and departments of other Universities abroad
The Graduate School of Biostudies has made mutual arrangements with various departments in many other countries to facilitate study abroad by students going in either direction. Below is a list of institutes with such agreements with our graduate school:
| | |
| --- | --- |
| Paris-East Créteil University, France | since 2017 |
| Paris Diderot University, France | since 2017 |
| National Taiwan University, Taiwan | since 2018 |
| National University of Mongolia, Mongolia | since 2020 |
| Michigan State University, USA | currently in progress |
In addition to these agreements, our graduate school regularly sends several students to the Summer Program held at National Taiwan University.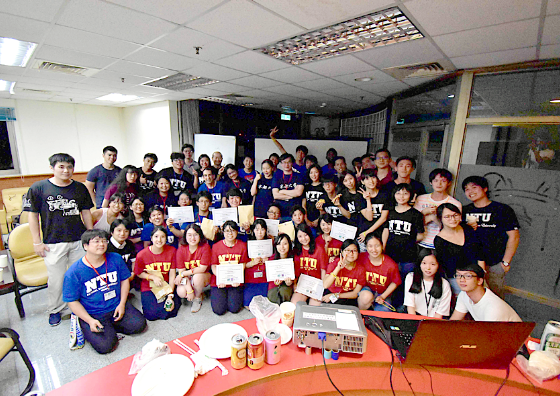 NTU Summer School participants, August 2017
Distance Learning Courses
The following Master's Program courses are taught in distance learning format in collaboration with National Taiwan University, University of California San Diego and Tsukuba University:
Advanced Molecular and Cell Biology I
Advanced Molecular and Cell Biology II
Cancer Biology
Cellular & Molecular Mechanisms in Neural Development and Regeneration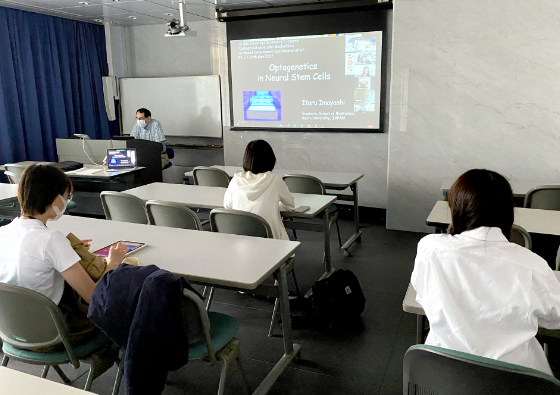 International Student Seminar
The International Student Seminar is an annual event run primarily by a committee of graduate students from the GSB, with support from the Faculty of Medicine and the Faculty of Pharmaceutical Sciences. With the guidance of faculty members, the committee organizes every aspect of the ISS, including deciding the venue and daily program, inviting and accommodating early-career speakers from overseas, managing all oral and poster sessions, as well as hosting social events during the two days of the seminar.
Click here to read reports of previous International Student Seminars.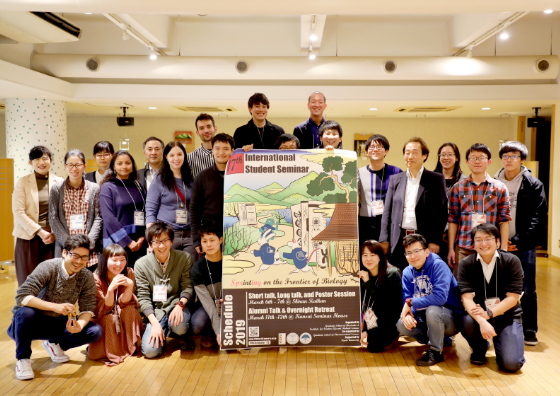 Study Tour
We arrange "Study Tours" for international students to learn about aspects of Japanese culture such as traditional Kyoto handcrafts, and for some leisure time outside the lab.  Both faculty and Japanese students also take part, so it is a good opportunity for meeting and socialising with others outside one's own research group.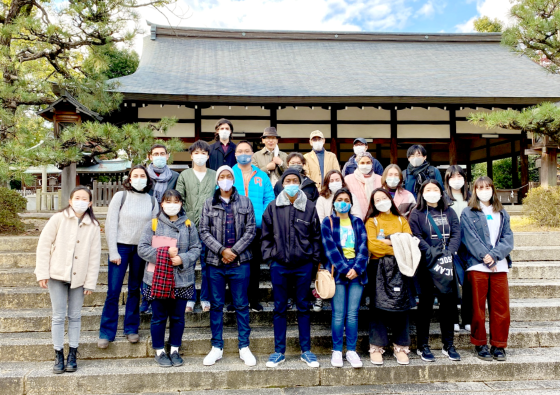 November 2021 Study Tour
Pandemic conditions curtailed most student activities this year, but in Autumn we were able to enjoy traditional Kyoto Momijigari: Viewing the red autumn foliage around Shinsho Gokurakuji Temple (Shinnyodo), whilst taking appropriate precautions against Covid-19.