Research summary
Research outline
Cells in multicellular organisms communicate with each other to facilitate normal development and homeostasis, thereby generating a functional and robust multicellular system. Disruption of such cell-cell communication leads to development and cancer and acceleration of aging. In our laboratory, we aim to elucidate the basic principles of cell-cell communications between adjacent cells (cell competition and cell-cell cooperation) and different tissues/organs that regulate tissue growth, organ development and wound healing to understand the mechanisms of tissue homeostasis, cancer, and aging.
Main themes
Mechanism of cell competition
Molecular basis of tumor progression and metastasis
Genetic basis of tissue growth and homeostasis
Mechanism of aging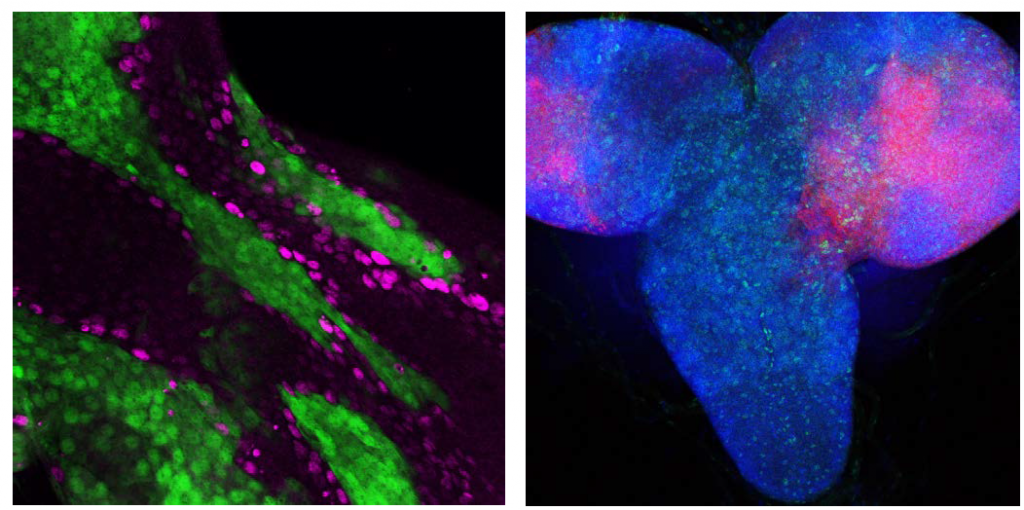 Left:Polarity-deficient cells (green; losers) are eliminated from epithelium by wild-type cells (magenta; winners) through cell competition.
Right:Malignant tumor cells (magenta) are invading and metastasizing from the eye disc to the brain (blue) in Drosophila larva.
Member
Please note that the @ symbol has been replaced by *.
Access
Faculty of Pharmaceutical Campus, Graduate School of Pharmaceutical Sciences Main Bldg.